Responding to you
You continue to be served by 30 fire engines and a range of specialised vehicles at 24 fire stations across our county.
Our stations are made up of:
Eight stations with wholetime crews
Four stations with a mix of wholetime and on-call crews
12 stations with on-call crews
In 2021/22, the average time for a crew to attend an emergency, from the time it was mobilised by our Joint Fire Control, was 7 minutes 51 seconds, which is within the eightminute target in our Strategic Plan.
Over the last two years the pandemic has affected the demand for our services. In 2020/21 the strict 'lockdown' conditions which were in place for much of the year resulted in fewer emergency incidents. At the same time, we experienced a greater availability of on-call staff, particularly during the daytime, as people were required to work from home or were furloughed from their primary employment. In the last year, with the easing of restrictions, we have seen incident numbers and availability return to levels more consistent with prepandemic figures.
Over 2021/22
We attended 10,096 emergency incidents, 12% more than in 2020/21
We rescued 1,347 people from either buildings, vehicles, water, confined spaces or heights. In 2020/21 this figure was 1,277
There were 3,390 fires – an increase of 15% on 2020/21
We attended 563 road traffic collisions – a decrease of 21% on 2020/21
We responded to 2,016 special service calls – an increase of 15% on 2020/21. Such calls include assisting East Midlands Ambulance Service and responding to flooding
Our availability at on-call stations averaged 87.6% over the year, which is above our target of 85%
Fire stations and premises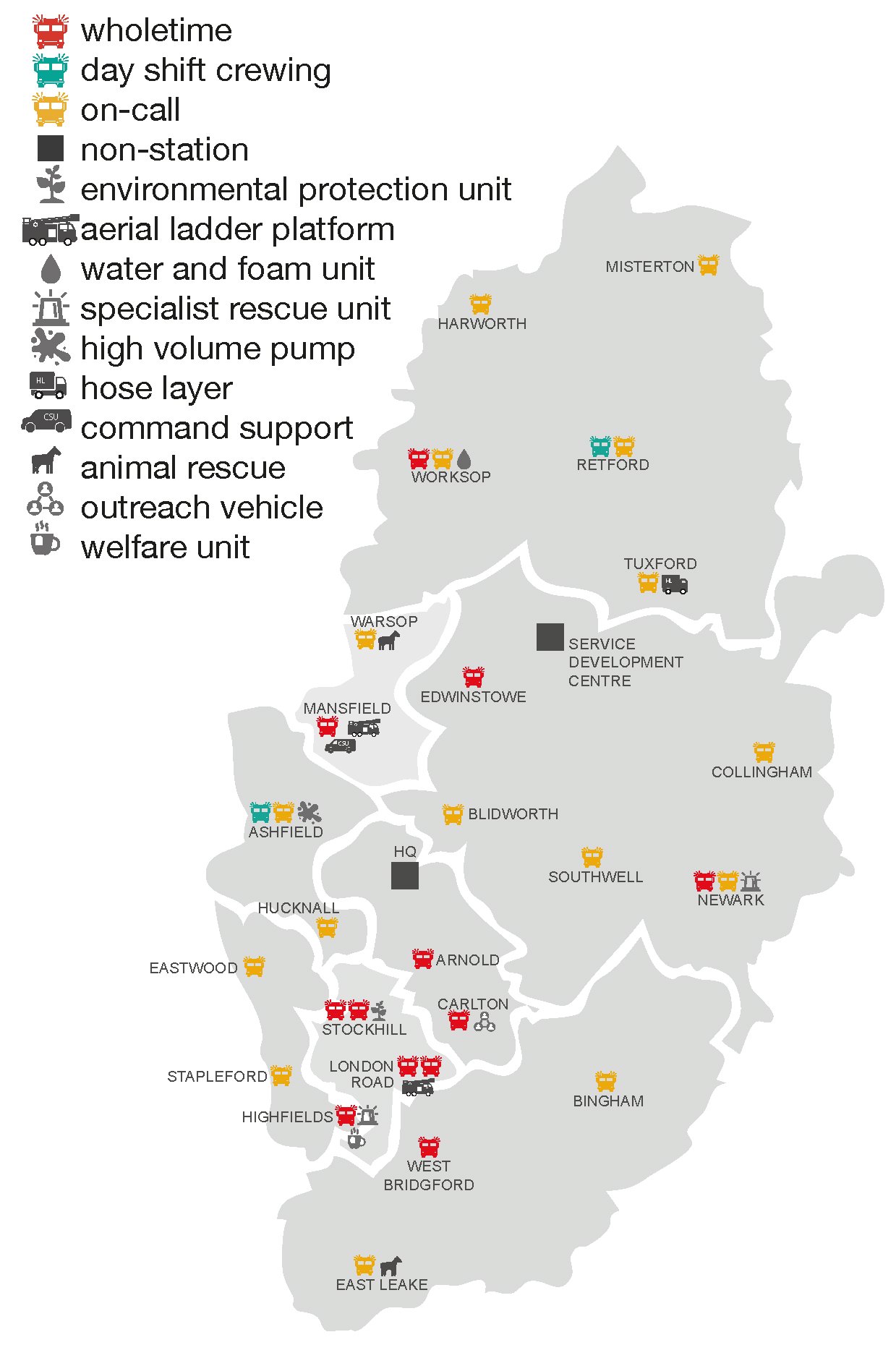 22 Annual Statement of Assurance 2021/2022 Responding to you During 2021/22 our response crews continued to play a critical role in supporting our communities through the coronavirus pandemic. Our activities included the delivery of medication and food parcels; the continuation of our Befriending & Signposting scheme; the creation of COVID testing centres; and the provision of assistance for the vaccination programme and other partner organisation initiatives.
Despite the challenges of the pandemic, our performance in responding to incidents has not been detrimentally affected. In 2021/22 crews attended over 10,000 incidents, arriving well within the Service's target attendance time of 8 minutes. They delivered over 10,000 Safe & Well Visits (enabling the Service to exceed its target for the year), continued to provide Business Safety Checks and community safety education events, and maintained operational competence through engagement in a full training and exercise programme.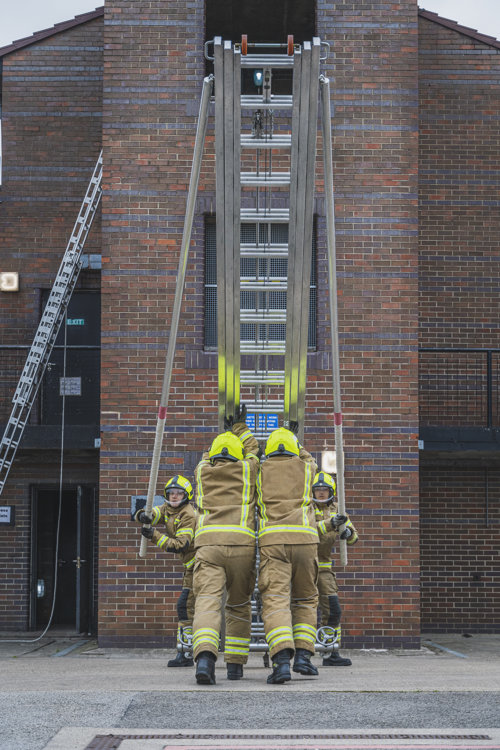 Operational preparedness
On-call workforce
Over a third of our operational workforce is oncall, which means they report to their station from home or regular place of work when they are required at an emergency. They crew over half of the Service's fire engines.
We have worked hard over the past year to further develop the sustainability of the on-call workforce, including the ongoing recruitment and training of additional employees.
During 2021/22 we have developed proposals around the introduction of variations to the traditional on-call contract of employment. The aim of this is to simplify recruitment, enhance retention and improve availability. A trial of 'Banded Contracts' at two on-call stations commenced in the winter of 2021 and the lessons learned from this trial will inform any decision to introduce the new contracts in 2022/23.
Training
National Operational Guidance (NOG)
NOG applies to working practices at all operational incidents. It describes the activities, hazards and control measures that need to be considered. It has been developed to ensure all fire services work to a consistent set of procedures. This helps ensure safe and effective working when crews from more than one service attend an incident. During 2021 we removed Standard Operating Procedures and became fully aligned with the new guidance. The project is a culmination of work between Nottinghamshire, Derbyshire, Lincolnshire, Leicestershire and Northamptonshire.
Risk information
The update and review of site-specific risk information has continued with risk information being accessible to crews when needed. Our risk information is shared with neighbouring fires services, and access to their risk information can be accessed by our crews via our mobile terminals. This is essential in ensuring the safety of firefighters and the public in the event of a fire.
Exercise programme
To maintain competence, every response crew is expected to undertake at least one practical exercise per year. These vary in scale (from 'District' to 'Service' level) and typically involve known risk sites, targeted incident themes, special appliances, fire engines from neighbouring fires services and a multiagency response. In 2021/22, in addition to the practical exercise programme, the Service introduced the requirement for every response crew to undertake two tabletop exercises facilitated by a first call officer.
We have been developing new ways of familiarising our crews with building layouts. Additional CAD drawings and other software is allowing 2D plans to be turned into 3D structures. This improved familiarisation will assist crews and support the implementation of the tall building procedures.
Equipment
The wide range of emergencies we attend requires the right equipment so our firefighters can respond safely and effectively. During 2021/22 we updated some of our equipment. This includes:
The introduction of smoke curtains to stop the spread of smoke to an escape route particularly in high-rise buildings.
New high-pressure airbags which are used particularly at road traffic collisions.
New Environmental Protection Unit (EPU) which is a shared resource with Derbyshire fire and rescue service.
Specialist appliance review
During 2021/22 a review of the Service's current and future special appliance provision was undertaken. The scope of the review considered the efficiency and effectiveness of how special appliances meet the needs of our communities, where they are located, how they are crewed, and how they contribute to the mitigation of risk. The findings of the review will be implemented in 2022.
Grenfell Tower Inquiry
Since the Grenfell Tower inquiry, additional training and equipment have been provided to ensure that we are better prepared to deal with complex incidents in tall buildings. A new tall buildings procedure has been fully implemented and ongoing training exercises with regional partners continues to improve our preparedness for major incidents.
Fire investigation
Our fire investigation team works alongside the police and forensic experts to collect and examine evidence and determine the likely origin and cause of a fire. As well as providing expert opinion to the coroner, police and insurance companies the team also provide advice to property owners on future safety measures.
During 2021/22 work has continued to align to ISO17020 standard, which specifies the requirements of bodies performing inspection activities. The team has now located to joint headquarters alongside Nottinghamshire police crime scene investigators.
Our specialist fire investigators investigated 140 serious fires across the county during 2021/22.