Principal Officers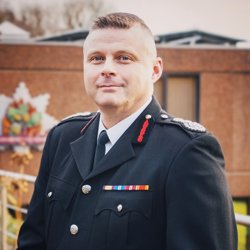 Craig Parkin
Chief Fire Officer
With a 23-year career within Nottinghamshire Fire and Rescue Service, Craig has served at Dunkirk, Central, Stockhill, and West Bridgford and spent some time at the NFRS Service Development Centre.
As a Group Manager, Craig spent some periods working at Headquarters as well as taking charge of frontline firefighting operations for the south of the county.
Prior to joining Nottinghamshire Craig spent six years in the British Army's Royal Engineers and numerous roles in the private sector over a four-year period. He holds several Diplomas from both Coventry and Nottingham Trent University's, a Master's in Disaster Management, and has completed the Executive Leadership Programme in 2013/14.
He is actively engaged across a range of NFCC work areas, including the East Midlands National Operational Guidance team as strategic sponsor, East Midlands Emergency Services Network Strategic lead, East Midlands Health and Safety Group strategic chair as well as NFCC's National Operational Effectiveness Working Group as health and safety liaison and NFCC National Health and Safety Committee member.
He was made temporary Assistant Chief Fire Officer in December 2013, before becoming permanent in post. In February 2019 he was successful in securing the position of Deputy Chief Fire Officer.
When John Buckley announced his retirement as Chief Fire Officer, Craig was appointed by the Fire Authority to become Chief Fire Officer. He took up the role on Saturday 16 April 2022.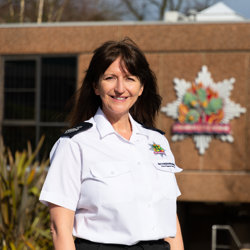 Candida Brudenell
Assistant Chief Fire Officer
Candida joined Nottinghamshire Fire and Rescue Service in June 2020 as Assistant Chief Fire Officer.
Candida joined the Service with a wealth of local government experience having spent 33 years at Nottingham City Council, where she started her career as an apprentice town planner. She undertook several roles with the City Council, overseeing projects in the voluntary sector, Education department, and Children and Adult Services, before being appointed Assistant Chief Executive / Corporate Director of Strategy and Resources.
In her final role with the City Council, Candida had responsibility for corporate functions including Finance, IT, HR, Procurement and Communications, and Marketing.
As the Assistant Chief Fire Officer at Nottinghamshire Fire and Rescue Service, Candida has responsibility for Corporate Support within the Service, which includes ICT, Corporate Communications, Performance and Planning, and Corporate Administration.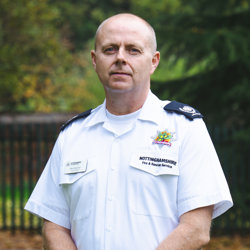 Mick Sharman
Assistant Chief Fire Officer
On Friday 25 February 2022 the Fire Authority appointed Mick Sharman as temporary Assistant Chief Fire Officer to fill the Deputy Chief Fire Officer vacancy created by Craig Parkin becoming Chief Fire Officer.
Mick was previously Area Manager and Head of Response.