Delivering an efficient Service
Governance
Various governance bodies and systems are required to deliver an efficient fire and rescue service to our communities.
Nottinghamshire and City of Nottingham Fire and Rescue Authority
This is often referred to as the Combined Fire Authority (CFA) and is responsible for ensuring we have the people, equipment and training needed to carry out our duties in relation to fire prevention; fire safety; firefighting and rescue; road traffic collision extrication and rescue and other emergency rescue activities such as responding to flooding or terrorism.
The authority consists of 18 elected councillors from Nottingham City Council and Nottinghamshire County Council. There are six committees that report to the Fire Authority. These are:
Appointments
Community Safety
Finance and Resources
Human Resources
Personnel
Policy and Strategy
Collectively these committees and the authority make decisions on key matters such as policy, strategy and budget.
Meetings of the CFA and its committees are open to the public. Further information can be found on the city council's website.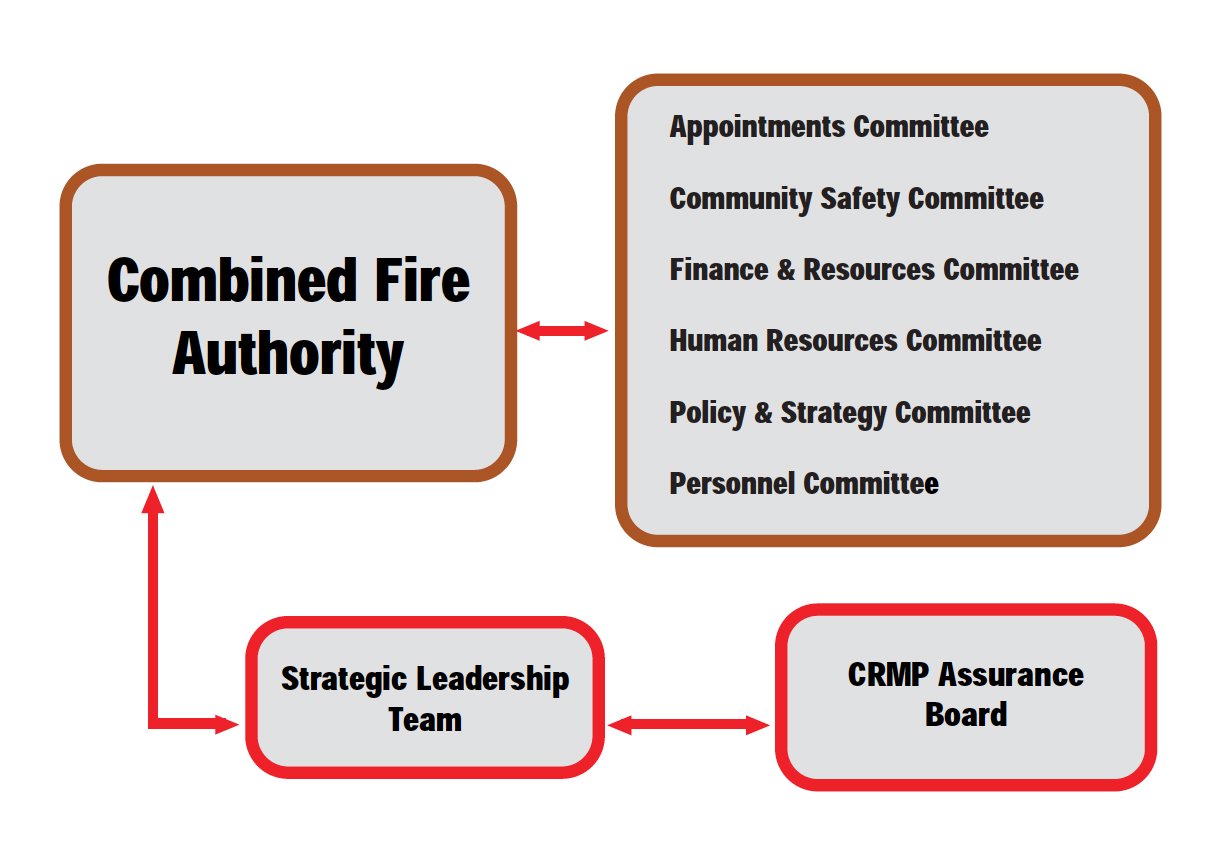 Strategic Leadership Team
The Strategic Leadership Team is responsible for implementing the strategy and policy decisions taken by the CFA.
Under the direction of the Chief Fire Officer, the team meets weekly to discuss Service priorities, collectively understand emerging issues and determine whether additional formal reports or business cases are required for consideration.
Programme and Performance Board
The Programme and Performance Board has monthly meetings chaired by the Chief Fire Officer. These focus on the progress being made against the strategic objectives set by the CFA.
It scrutinises performance reports and key performance indicators from all areas of the Service and oversees significant corporate projects.
Operational Learning Board
The Operational Learning Board meets to ensure that we can effectively learn from the operational incidents and exercises that have taken place.
This board also considers learning that has come from other fire and rescue services to ensure an efficient, safe and effective operational response and to support the goal of delivering an outstanding service. This board meets every two months.
Service Delivery Evaluation and Assurance Group
It is important to oversee the performance of our Prevention, Protection and Response departments to monitor our progress against the standards we set.
Risk and performance matters are considered, with the aim of addressing any areas of concern and highlighting and learning from areas of good practice. The Group meets on a quarterly basis.
Information governance
We understand and support the importance of Freedom of Information and transparency.
Our data protection officer supports our data protection duties across the Service, and we continue to train all employees in their data protection responsibilities.
Cybersecurity
The threat of cyberattacks is a constant risk for all organisations, particularly in the public sector.
Updating our practices and monitoring these threats is vital to ensure that we can deal with current and future risks.
In 2021/22 we counteracted 343,172 total threats, which included spam, malware and viruses.
Business continuity management
During 2021/22 our business continuity management arrangements meant that we were able to emerge effectively from the COVID-19 pandemic. The plans and systems which were put in place during the pandemic ensure that we are well placed to respond effectively, should there be a significant future surge in cases.
The arrangements and lessons learnt through the pandemic also allowed us to test other measures which we have in place to deal with similar risks and disturbances which could threaten our future service and activities.
Financial performance
Under the Local Government Act 1999, fire and rescue services are responsible for ensuring that their business is conducted in accordance with the law and proper standards, and that public money is properly accounted for and used economically, efficiently and effectively.
We provide financial assurance through the publication of an Annual Statement of Accounts. This is a statutory requirement under the Accounts and Audit Regulations 2015, and the accounts are prepared following the Code of Practice on Local Authority Accounting. The financial statements are subject to review by independent auditors.
Our appointed external auditor is Ernst Young LLP. The auditors are responsible for two key areas:
Financial statements (including the Annual Governance Statement). This provides an opinion on our accounts
Use of resources – concluding on the arrangements for securing economy, efficiency and effectiveness (the value for money conclusion)
Internal audit forms part of the wider system of internal control which deals with our exposure to financial, and to some extent, non-financial risk.
Our internal audit for 2021/22 was conducted by Nottinghamshire County Council and reported to the Finance and Resources Committee of the Fire Authority.
This allowed members to see the work of the internal audit and the contribution that it makes to the overall system of internal control.
2020 / 21 Financial budget
The 2021/22 budget was set at £45.302m. We underspent by £194,000 (0.4%) during this year.
£163,000 of this has been carried forward to 2022/2023 as it related to unspent grant.
Capital expenditure for the year totalled £6.499m.
£2.1m was spent on the new joint HQ and £3.3m was spent on the new fire station in Worksop, which opened in May 2022. £424,000 was spent on IT equipment, £317,000 on vehicles and £252,000 was spent on operational equipment.
Reserves at the end of March 2022 were £9.88m.
Governance Statement
The Annual Governance Statement publicly explains how we manage our governance and internal control measures. It is a transparent account of how we ensure our financial management system is adequate and effective. It also ensures a sound system of internal control, assuring the utmost integrity in all of our work.
The Fire Authority also has a Code of Corporate Governance in which it reaffirms its duties and responsibilities. In this document officers support each of the code's principles with documentation or existing practices, demonstrating how the Fire Authority complies with the principles that make up the code.
We recognise the importance of transparency over how public money is spent.
The Local Government Transparency Code 2015 has been used as the foundation for organisational transparency. In deciding what information we should make available, as a starting point we have used the recommended data sets as defined by this code.
Using our resources effectively
Throughout the lifetime of the Strategic Plan, there has been a focus on delivering an effective and efficient service while also providing value for money for our communities. Collaboration and sharing of resources with our partners has been a significant theme and a statutory requirement which has formed part of this ambition.
Throughout the course of the pandemic, we worked alongside our partners in a variety of ways, providing the necessary support to enable the combined response.
This support and sharing of resources demonstrated the value of working together, and showed why collaboration, co-location and resource sharing should be a significant part of the future picture.
During 2021/22 support staff continued to work hard across our service delivering projects which enable us to provide quality services to our communities. Maintaining our buildings, vehicles and systems is essential to make sure they remain fit for purpose, energy-efficient and cost-effective.
These projects included:
Completion of our major collaboration project, the joint Police and Fire Service HQ at Sherwood Lodge
Completion of the new Worksop Fire Station at Vesuvius development off Sandy Lane
Continuing to make sure buildings remained COVID-secure
Disposal of the old fire station in Hucknall
Planning the relocation of stores, incident command suite and fire protection
Refurbishment work at Service Development Centre
Investment in the new rostering system
New contracts for the cleaning and maintenance of our buildings, and for the specialist cleaning services for the fire kit worn by crews and officers when they attend incidents
The purchase of operational equipment including new fire gloves, operational surcoats, water rescue personal protection equipment and body-worn camera equipment
Upgrading equipment on our frontline vehicles, including 22mm firefighting hose reels, CCTV, high-pressure airbag systems
Introduction of new equipment to deal with high-rise incidents as a result of the findings from the Grenfell incident. This included Smoke Curtains and additional dividing breaches
Purchase of safe working at height equipment for all the on-call fire engines
Provision of inflatable shelter for the command support vehicle to allow for better set-up at incidents during all weather conditions
Evaluation of different types of foam to determine which was the best option. Highexpansion foam has been purchased and made available for the water and foam unit and environmental protection unit from 1st April 2022
Removal of Breathing Apparatus guidelines from all fire engines and purchasing of equipment for the specialist rescue units to support firefighter safety (waysafe guidelines)
Service assurance and future improvement
In 2017, Her Majesty's Inspectorate of Constabulary took on the inspections of England's Fire and Rescue Services (HMISFRS).
In September 2021, we had our second inspection by HMICFRS. We are expecting to receive our inspection report in July 2022, with the findings expected to be published in the summer of 2022.
The inspections aim to give a rounded assessment of every FRS, and focus on
the operational service provided to the public (including prevention, protection and response);
the efficiency of the service (how well it provides value for money, allocates resources to match risk, and collaborates with other emergency services); and
how well the service looks after its people (how well it promotes its values and culture, trains its staff and ensures they have the necessary skills, ensures fairness and diversity for the workforce and develops leadership and service capability).
Any areas for improvement which are identified from the inspection will be address through our delivery plans to ensure we continue to improve our service to you.
Community Risk Management Plan (CRMP) 2022-2025
Throughout 2021/22 we produced and consulted on our CRMP 2022-2025. The CRMP, published in April 2022 utilises the findings of the Strategic Assessment of Risk to determine the focus and activities of the Service for the next three years.
As part of this process, we undertook a formal consultation process which sought the input from a wide range of stakeholders.
Fire Cover Review (FCR) and Strategic Assessment of Risk
In 2021, we commissioned an independent sector specialist to undertake our most in depth FCR to date. This provided us with a comprehensive analysis of data which fed into our new Strategic Assessment of Risk. This detailed review highlighted when, where and what incidents are most likely to occur across our county.
Core Code of Ethics
In May 2021 the National Fire Chiefs Council published the Core Code of Ethics for Fire and Rescue Services. The code sets out five ethical principles, which provide a basis for promoting good behaviour and challenging in appropriate behaviour.
We have integrated these principles with our existing values to ensure that our communities are supported in the best possible way.