Fire risk assessment
Fire safety in your business premises
Under current Fire Safety Legislation, you, as a Responsible Person within your business, must carry out a suitable and sufficient Fire Risk Assessment. This assesses the risk of fire to your employees and others who are associated with your business and its work. If you feel that your premises is too complex to write one yourself, you can use this guide by the National Fire Chiefs Council to help you with how to choose a competent fire risk assessor.
Nottinghamshire Fire and Rescue Service categorises premises by risk level, placing premises that have sleeping on site or visitors that may be unfamiliar with the layout in a higher risk category due to delays in discovery of fire or making an escape.
The Department of Communities and Local Government (DCLG) issues Guidance Documents to help recognise the fire risks for particular premises, dividing them into size and nature of premise eg. Healthcare, Factories and Warehouses, and Offices and Shops. These guidelines are designed to help the responsible person comply with the requirements of the Regulatory Reform (Fire Safety) Order.
In order to measure the risk of your premises, you may also need to calculate your maximum occupancy levels. This is worked out using the number and width of the fire exits available per person. You can download a simple guide to calculating occupancy figures.
The short guide to making your premises safe from fire (.pdf, 16 pages, 1007Kb) is another useful tool for writing your own risk assessment. This should help you methodically follow the five key steps of Fire Risk Assessments.
Fire safety risk assessment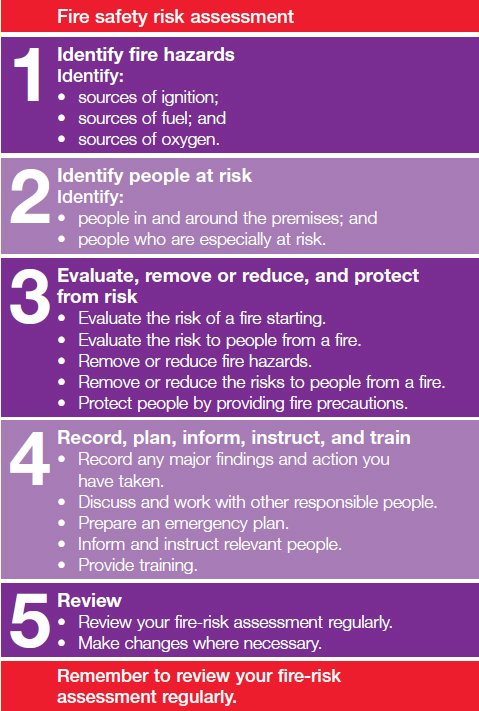 Identify fire hazards

Sources of ignition
Sources of fuel
Sources of oxygen

Identify people at risk

People in and around the premises
People who are especially at risk

Evaluate, remove or reduce and protect from risk

Evaluate the risk of a fire starting
Evaluate the risk to people from a fire
Remove or reduce fire hazards
Remove or reduce the risk to people from a fire
Protect people by providing fire precautions

Record, plan, inform, instruct, and train

Record any major findings and action you have taken
Discuss and work with other responsible people
Prepare an emergency plan
Inform and instruct relevant people
Provide training

Review

Review your fire-risk assessment regularly
Make changes where necessary
Templates
Our Fire Risk Assessment templates are for guidance and should help you methodically follow the five key steps of Fire Risk Assessments. These should be used in conjunction with the DCLG Guide which is relevant to the size of your premises and the nature of your business.
We have several templates to help you:
If you plan to hold a temporary event, you can apply for a Temporary Event Notice online.