7 Governance, monitoring and assurance
The Nottinghamshire and City of Nottingham Fire and Rescue Authority is responsible for fulfilling the statutory duties outlined in the Fire and Rescue Services Act (2004) and other primary legislation. This means that we need to have the people, equipment and training needed to carry out our duties in relation to fire prevention, fire safety, firefighting, rescues from road traffic collisions and responding to other emergencies such as flooding or terrorism.
Often referred to as the Combined Fire Authority (CFA), it consists of 18 elected Councillors from Nottingham City Council and Nottinghamshire County Council as well as the Police and Crime Commissioner (PCC). There are six committees that report to the Fire Authority. Collectively these committees, and the CFA, make decisions on key matters such as policy, strategy and budgets.
The Chief Fire Officer then has a scheme of delegation which details devolved areas of service delivery, such as how to allocate resources and prioritise the workload of our Service.
Meetings of the CFA and its committees are open to the public and are also streamed live on our YouTube channel. Further information, including meeting agendas and minutes, can be found on the city council's website.
Our Strategic Leadership Team, under the direction of the Chief Fire Officer, is responsible for implementing the strategy and policy decisions taken by the CFA. They are supported by other internal groups that oversee performance and ensure continuous improvement.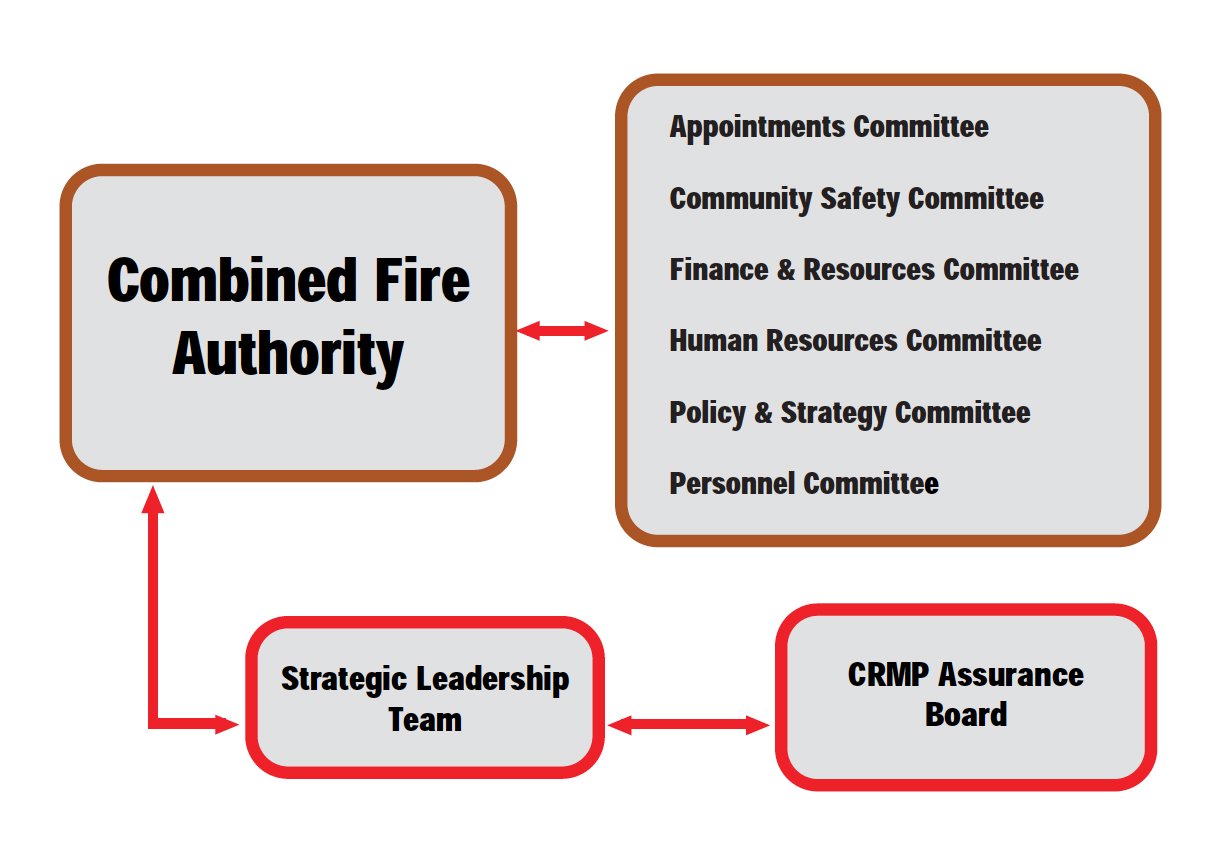 Collaboration
We facilitate a Strategic Collaboration Board that looks for opportunities to work with Nottinghamshire Police and oversees current collaborations. The membership of the group includes the Chair of the Fire Authority, the Chief Fire Officer, the Chief Constable and the Police and Crime Commissioner.
We also have a Collaboration Board which facilitates governance and reporting of our Joint Fire Control with Derbyshire Fire and Rescue Service and explores areas for continued collaboration. This is attended by Fire Authority members and senior officers of both services.
External assurance
All fire and rescue services are subject to inspection from HMICFRS. The aims of the inspection programme are to encourage improvement in the fire sector and to provide the public with accessible information about how their local service is performing. Our long-term ambition is to be graded as an 'Outstanding' service.
We were inspected in September 2021 and we will receive the final report of their findings in the Spring of 2022. During the life of this plan, we will act upon identified areas of learning to deliver further service improvements.