Projects & Partnerships
BSL Charter
As part of the Service's commitment to making its services accessible to all of its communities, it pledged its commitment to the British Deaf Association's British Sign Language charter in 2018. Since, the Service has created a communication guide carried on all fire engines, up skilled key members of its staff working with Deaf communities in BSL, raised awareness across the workforce of communication with a Deaf or Hard of Hearing person and the content of its website aimed at Deaf Service users more accessible. The Service continues its work as part of its commitment to the British Sign Language charter to create a barrier free environment for Deaf service users.
Engagement with LGBT+ communities
The Service takes measures to promote its services to its LGBT+ communities, as it is acknowledged statistically LGBT+ communities are less likely to engage with local services, we advertise our Safe and Well service within the Queer Bulletin, are proud sponsors and attendees of Nottingham and Worksop Pride, deliver a range of training within our workforce to raise awareness of the barriers LGBT+ people can encounter and promote our recruitment opportunities to our LGBT+ communities. The Service also has an active LGBT+ staff network inclusive of allies and has been a Stonewall Top 100 employer five of its last six Stonewall Workplace Equality Index entries since 2015.
Radio Dawn
NFRS have drawn up a Service level agreement with this community radio and are using these shows to engage and reach out further into the hearts of south Asian community. The shows cover anything from recruitment, to prevention, to protection, and even our Community Risk Management Plan. The staff at NFRS are using their multi–lingual skills during the shows so that our messages are inclusive and are raising awareness of our Service within all age groups.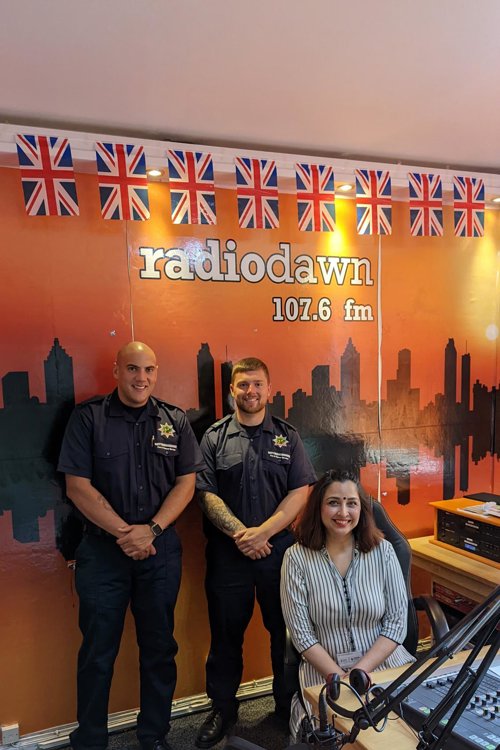 Radio Kemet
NFRS also works closely with Radio Kemet, which reaches out to our Afro-Caribbean community living in Nottingham city, talking about recruitment into the Service, as well as, fire, road and water safety.
Berridge ward
In our Safe & Well provision, it has been identified by data analysis a gap in this provision in engaging with our BAME communities living in one of the most diverse wards in the City, Berridge. A pilot was delivered recently in this ward with Local Councillor, helping the service in completing 85 Safe & Well visits and the fitting of 120 smoke alarms within these households. The service is hoping to run similar projects in other wards too.
To increase uptake of Safe and Well visits within BAME households
To identify Vulnerable people from BAME households, using CHARLIE matrix, in the area
To promote & raise awareness of NFRS within BAME community
To foster good relationships
To remove fear of uniformed services
To promote future recruitment
To break down barriers within BAME communities
Newark & Sherwood
NFRS has forged links with our Gypsy/Traveller community living on Tolney lane specifically. Regular Safe & Well are carried out and information given to this section of community in a sensitive and bespoke manner.
BAME Community Advisory Group
The NFRS BAME Community Advisory Group (BCAG) is a NFRS focus group designed to act as a sounding board and advisory group to support NFRS's development of policies, procedures and communications with regard to BAME communities across Nottinghamshire.
Providing challenge and feedback on policies and reality
Keen to engage and help establish a community network
Part of CFO appointment Stakeholder group
Croatia Project
For a number of years, the Authority has supported various voluntary operations to give an extended life to fire appliances that are considered to be at the end of their useful life within the UK, and no longer fit for purpose. In April 2016, this committee agreed to continue that support and donated a further 2 appliances to rural fire crews in Croatia. In May 2016, the 2 vehicles were successfully transported by volunteers to Croatia, where they also delivered basic training in the use of the vehicles and equipment.
Faith podcast and Faith e-learning package
The E-learning package on different faiths practiced in Nottingham/shire was put together and is available on NFRS Learn for staff to access
To compliment all Religion & Belief training and Faith e-learn package, Podcasts have also been successfully delivered with the aim that staff can access these as and when they have time via our intranet.
Employee Networks
The work of our new and emerging employee networks is also commended. The importance of allies in promoting equality, diversity and inclusion should not be underestimated. The Service has re-entered the Stonewall Workplace Equality Index this year for the 5th time in the last 7 years. This is an astonishing achievement and one that should not be underestimated. Stonewall's criteria challenges the organisation to change the way it thinks about inclusive policy and workplace practice. The attraction rate for LGBT+ applicants and employees has improved, doubling the numbers of LGBT+ staff in the last 12 months.
A network which discusses and represents under represented -staff and is an open channel of communication and support.
Ethnic Minority Alliance Network
Disability Matters
Womens Network
LGBT+ Proud Friends Network
Veteran's Network
AIMS
To provide a safe place for open, confidential and supportive discussions, for all employees of the Service.
To create and support a culture in which all members of the Service are able to participate and fulfil their potential in an environment where they are valued
To explore and discuss issues affecting employees and recommend changes to enhance policy or practice
To inform and influence the Services approach to all issues, contribute experience, expertise, ideas, and to educate colleagues to understand what these communities may face
Provide opportunities for networking, support, and personal and professional development amongst employees
To collaborate with all employee networks in the Service and organise and facilitate events.
Working alongside the ODI team to share information and good practice internally and externally