NFRS supports Ukraine Humanitarian collections
The Ukrainian community in Nottingham is well established, with many of their parents and grandparents coming to the UK as refugees after WW2. Many have family in Ukraine and are deeply concerned for their safety.
You can donate to the #HelpUkraine emergency appeal here: Fundraiser for Association of Ukrainians in Great Britain (AUGB) by Anna Dezyk
To directly support refugees and asylum seekers, there are Nottingham-based charities such as the Nottingham Arimathea Trust, and the Nottingham and Nottinghamshire Refugee Forum. They work to support refugees as they arrive into this country.
Deputy Chief Fire Officer Craig Parkin said "It has been wonderful to see the efforts of our crews and communities in helping the people of Ukraine. We are working hard to ensure that any help given is properly considered. The physical donations from the last week are greatly appreciated, and at this next stage we are closely following the advice of the Polish Embassy to encourage fundraisers and direct donations of funds to verified organisations, that will use the funds for assistance and effective operation in the long term."
George Singh, from Lowmoor Pharmacy in Kirkby in Ashfield, donated to Ashfield's appeal on Friday. Mr Singh said "It's fantastic to see the local community getting together and donating. It just shows when things like this happen in the world, people don't think twice, they do whatever they can, no matter what situation they're in. I think it's all going to make a massive difference."
Dariusz Kopycinski, Firefighter at Highfields Fire Station said "The donations we have seen are incredible, and far beyond anything we could have imagined. As someone with links to Poland, it has been an honour to work with our local community and help those who need it the most."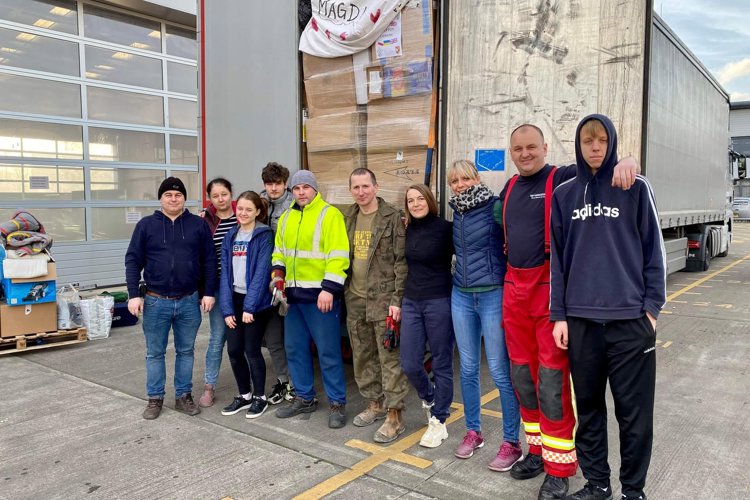 Ukraine NFCC kit donations
In addition to the fantastic Station-organised community donations to Ukraine, NFRS has donated equipment through the NFCC to firefighters on the front line. On Friday 11 March, three pallets of equipment left Collingham Fire Station for the Eurotunnel, with a further three pallets from Derbyshire Fire and Rescue Service.
An NFRS Luton Van drove the following kit to Kent:
Brand new Drager HPS 7000 fire helmets x12
Used Grey/ Red Fire Kit x 3 sets
Used old-style NFRS Fire Helmets – approximately 32 and 10 torches
Used Fire Boots x 8 – 10 pairs
Old-style (Orange) GP Gloves x 20
Person Cooling System Vest x 1
High Pressure Hose x 3
Hose Ramps x 2
Green paper suits out of old welfare packs x 80
BA Guideline ropes and bags x 40 (technically out of date)
Water Rescue Helmets x 4 (technically out of date)
Toilet paper sheets (don't fit any of our dispensers) 8 x boxes
Flexpac (Manual Water Sprayer) x 2