E - Elderly and Electrical
Elderly
Almost twice as many people over the age of 50 now die in dwelling fires in the UK each year compared to those under 50. This is potentially due to a variety of biological and social factors that can affect our lives as we grow older.
Health
Will the individual be able to HEAR the alarm?
Will the individual be able to SEE or recognise signs of a fire?
Will the individual be able to recognise the SMELL of smoke?
Will the individual RECOGNISE the sound of the smoke alarm and know how to react?
Is the individual frail or at risk of FALLS?
CAPACITY? Just because someone makes an unwise decision, does not mean they lack mental capacity
The likelihood of sensory impairment increases with age and this may have a detrimental effect on an individual's awareness of a fire until it is too late. A conventional smoke alarm may not be audible to the hearing impaired. A decreased sense of smell may result in a smouldering fire going undetected, and loss of touch reduces the ability to detect heat changes.
Age is also the strongest known risk factor for dementia - above 65, a person's risk of developing dementia doubles roughly every 5 years. Dementia can affect an individual's memory, concentration, recognition of our surroundings and ability to problem-solve, especially in unfamiliar situations. Each of these factors may impact on the ability to respond to a fire appropriately.
Overall, a variety of health conditions decrease our ability to survive an injury or cope with a traumatic experience.
Social changes
Sadly, adults may find themselves living alone in older age following the death of a partner. The Social Institute for Clinical Excellence recognises that bereavement, as well as loss of friends, reduced mobility or limited income, can leave older people vulnerable to social isolation.
As we have already seen, living alone with few social contacts is highly correlated with the risk of fire fatality.
Some older people also live in conditions that increase the likelihood of a fire occurring and prevent escape. They may live with open fires or ineffective or poorly maintained heating / cooking appliances which increase the risk of fire, carbon monoxide poisoning and hypothermia.
Electrical
Overloaded sockets
13 AMP rule, a maximum of a total of 13 AMPS into 1 socket.
Better to use a bar adaptor (multi board) on a lead than a block adaptor.
Only one adaptor per socket-Check for adaptors plugged into other adaptors
One plug per socket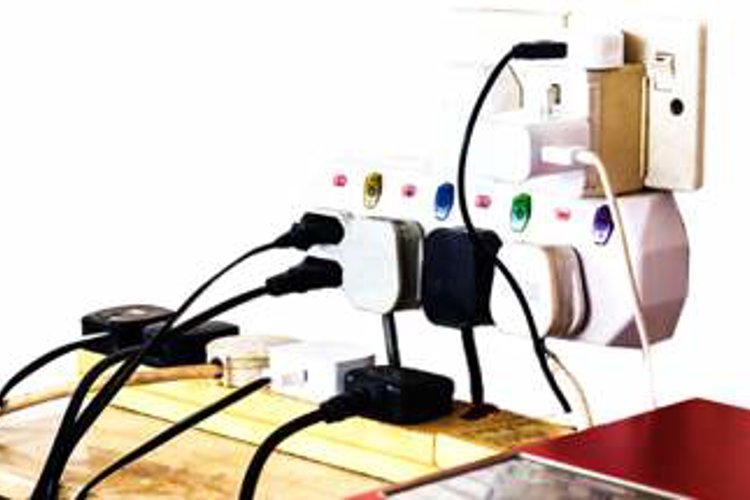 Other concerns
Electrical blankets - left on or in poor condition - these are risks
Cluttered wiring - can cause trip hazards - can disguise poor condition of wiring
Fan / Space heaters - can lead to surface heat locally - can be left on without thermostatic controls
Devices on charge under bedding or left unattended - examples include phones left on overnight or use of chargers not conforming to current standards
CHARLIE-P Score
CHARLIE-P recognises that the risks from fire increases exponentially from the age of 50, and assigns scores higher scores based on age.
The CHARLIE-P score should also reflect the level of electrical safety and awareness of the occupier at the time of the visit.
1 - Rare - No concerns

2 - Unlikely

Electrical risks identified but resolved during visit

4 - Possible

Electrical risks identified - support needed to resolve but sound awareness of electrical safety

This score is used if once changes are made, electrical safety can be maintained. The individual needs support from family, professionals or carers to resolve issues, but there are no concerns that they can maintain electrical safety.

8 - Likely

Electrical risks identified - ongoing support needed due to poor awareness of electrical safety

This score is used if the person will need ongoing, regular support from family or carers to maintain any improvements electrical safety. This may be because they cannot understand, retain or apply safety advice (e.g. due to memory problems).

10 - Extremely Likely

Risks identified - Client unable / unwilling to resolve Any of the examples of poor electrical safety above, plus:

dangerous environment - burn marks on wallpaper, sockets, appliances
unwillingness to engage or to change dangerous use of electrics
hoarding behaviour impacts on electrical safety
financial restrictions impacting on ability to change environment
significant support required from Social Services / Housing authority to rectify issues
Score
1
2
4
8
10
Descriptor
Rare
Unlikely
Possible
Likely
Almost certain
E
Elderly
Under 40
41-50
51-64
65-79
80+
Electrical
No concerns
Risks identified - resolved during visit
Risks identified – support needed to resolve but sound awareness of electrical safety
Risks identified - ongoing support needed due to poor awareness of electrical safety
Risks identified – client unable / unwilling to resolve